The Land and Leadership Development Community is for those who want to continue learning in a ongoing community of practice that applies framework thinking to regenerative land management, policy work, human and environmental health, and planning at a local, regional, or global scale, while working on their own inner development as a leader. We define leadership as anyone working to make things go well in the world (and creating conditions for others to do the same) whether their efforts are recognized or not. Please contact Didi Pershouse before paying if you have questions about whether you are eligible to apply, or if you are requesting financial assistance. We welcome donations to our scholarship fund by anyone wishing to support this work.
Read on for more details. If you think you are interested, please email [email protected] and we can schedule a time to have a conversation.
The Land and Leadership Development Community
We are a group of people who share a set of aims and a living-systems approach to achieve those aims.
We know:
We are smarter and stronger together than we are alone
There is a power that people develop when they count on one another that can lead to wiser decisions, and more lasting change in the world.
Continual learning, personal development and community development are not only meaningful and fun, but also essential for true ongoing regeneration of living systems (ecosystems, economies, health care systems, food systems, political systems, etc.)
The work of other species and the flows within and between living systems are mostly invisible to us unless we: practice asking better questions and observing the world around us more deeply; and are willing to question our assumptions, monitor results of our actions, and continually learn and develop ourselves.
As a community, we are growing a shared understanding of how living systems work (and how to create conditions that allow life to do its work) based on our own experiences of energies within those systems. (Energies = flows of water, carbon, sunlight, and nutrients; the work of all species; human beliefs, behaviors and patterns; evolution and biodiversity, etc.)
If you have spent hours playing with rocks in a mountain stream, you know that you can redirect flows of water--and use the power of water to change an entire landscape--by moving a few stones. Likewise, by seeing relationships and understanding the nature and power of sunlight, grazing animals, human beliefs, microbes, etc., we can design actions that redirect whole systems (economies, public health, food systems, etc.) to create landscapes and communities that work for all life, rather than getting distracted by working on parts and pieces.
Our international community gathers together weekly for a 2-hour session (alternating days and times, currently Wednesday evenings and Thursday/Friday mornings), with two consecutive weeks devoted to a theme, but using different approaches to the theme. See below for a list of dates. This allows people to choose whether they want to attend every week or every other week.
Didi Pershouse designs the events, and serves as a resource to the group as a whole. You are not required to attend every session live: all meetings are recorded, and members have access to all our previous recordings. We work together not just as a learning community, but also as a "meta" learning community that sometimes attends other events together. We will hold regional retreats in the future, as opportunities for in-person gatherings open up.
The cost is $600 for a six-month membership (with an option for $100 monthly payments). Many of our current members also contribute toward a scholarship fund, which has been distributed to those who needed financial assistance. If you can contribute something toward the fund, that will help us provide assistance to new members. Add on a donation to your payment, or you can donate through PayPal.
This may not be the right time in your life for this kind of work. Our discussions are highly focused, and we work towards integrity and being fully awake, which means that we sometimes interrupt automatic patterned behavior, to help us all be more present. This requires a strong center from all participants and a commitment to the work. Please consider whether this is a good fit for you.
A few of the many WRONG REASONS TO JOIN:
You want to collect good ideas that you can put into a workbook. (This work is living work. The design changes every time.)
You are looking for self development but you aren't currently working on any projects related to this work.
You want a place to think about projects, but don't want to work on self development.
You want an expert to tell you what to do and give you lots of great advice
You are looking for a place to process lots of emotions (we have other communities that are great for that.)
You want someone to be the great Earth Mother for you and take care of everything.
DATES AND TIMES FOR 2022
We meet every week, with alternating morning and evening times to accommodate different time zones, since we are an international group. We generally have at least two meetings per topic, always with a new discussion and perspectives. Come as frequently as you can. The more you come, the more capacity you will develop, but there is no need to "catch up" between meetings unless you want to (this is a community of ongoing reflection and practice, not a sequential course). Meetings are recorded, and community members have access to all current and previous recordings.
May 12, 10:30 AM Thursday
May 18, 6 PM Wednesday
May 26, 10:30 AM Thursday
June 1, 6 PM Wednesday
June 9, 10:30 AM Thursday
June 15, 6 PM Wednesday
June 23, 10:30 AM Thursday
June 29, 6 PM Wednesday
July 7, 10:30 AM Thursday
July 13, 6 PM Wednesday
July 21, 10:30 AM Thursday
July 27, 6 PM Wednesday
August 4, 10:30 AM Thursday
August 10, 6 PM Wednesday
August 18, 10:30 AM Thursday
August 24, 6 PM Wednesday
Sept 1, 10:30 AM Thursday
Sept 7, 6 PM Wednesday
Sept 15, 10:30 AM Thursday
Sept 21, 6 PM Wednesday
Sept 29, 10:30 AM Thursday
October 5, 6 PM Wednesday
October 13, 10:30 AM Thursday
October 19, 6 PM Wednesday
October 27, 10:30 AM Thursday
Nov 2, 6 PM Wednesday
Nov 10, 10:30 AM Thursday
Nov 16, 6 PM Wednesday
Nov 24, 10:30 AM Thursday
Nov 30, 6 PM Wednesday
Dec 8, 10:30 AM Thursday
Dec 14, 6 PM Wednesday
Dec 22, 10:30 AM Thursday
Dec 28, 6 PM Wednesday
Your Instructor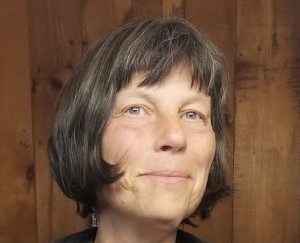 Didi Pershouse is the author of The Ecology of Care: Medicine, Agriculture, Money, and the Quiet Power of Human and Microbial Communities and Understanding Soil Health and Watershed Function. She is a contributing author for Health in the Anthropocene, Climate Change and Creation Care, and the Regenerative Economy Collaborative.
As the founder of the Center for Sustainable Medicine, she developed a practice and theoretical framework for systems-based ecological medicine—to restore health to people as well as the environmental and social systems around them. After 22 years of clinical work with patients, Pershouse now travels widely in North America and Europe as a speaker, teacher, and consultant.
Pershouse is a skilled facilitator, who brings people with diverging views together into effective working groups with common aims: improving soil health, public health, food and water security, and regional resilience through simple changes in land management. Both online and in-person, her participatory, inquiry-based workshops engage farmers and ranchers, policy makers, investors, and scientists in living-systems thinking and deep listening, to allow for emergent strategies. She was one of five speakers at the United Nations-FAO World Soil Day in 2017.

In 2018, she founded the Land and Leadership Initiative, and the "Can we Rehydrate California?" Initiative. She is currently a Planning Commissioner for her town, a member of the Vermont State appointed Payment For Ecosystem Services and Soil Health Working Group, a working member of the Northeast Healthy Soils Policy Working Group and is on the board of directors of the Soil Carbon Coalition and the Vermont Healthy Soils Coalition. She led a successful effort to conserve the Zebedee Headwaters Wetlands while serving as a Vermont Conservation Commissioner.
She is currently working on projects with the UN-FAO Farmer Field School program and the Climate Resilient Natural Farming Initiative in Andhra Pradesh, India (involving over 800,000 farmers). You can learn more about her work at www.didipershouse.com